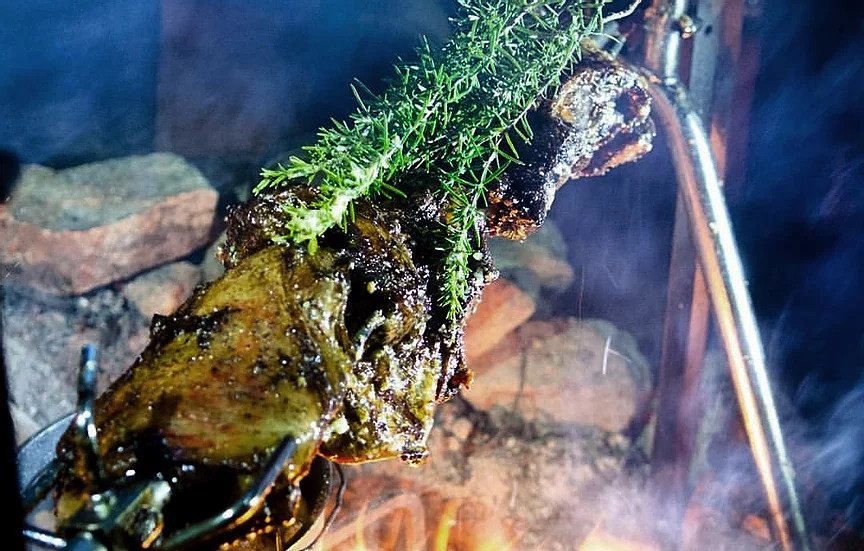 ROSEMARY BASTED LAMB
The key here is to prepare the dough at least an hour before you want to eat it. Cooking only takes 2 minutes once it has risen. If you can do it at home before you go away it is even easier.
3.5 cups bakers flour (550g)

2 tsp salt

3 tsp honey

1 sachet dry yeast, 7 grams or 2 tsp

1 tsp baking powder

2 tbsp olive oil

380mls wate
Place flour, yeast, baking powder and salt in a bowl and mix well.

Dissolve the honey in some hot water then add cold water to make 380 mls and olive oil.

Either mix flours and liquid to form a dough by hand or in a blender.

Knead until smooth and elastic then leave to rise in an oiled bowl until doubled in size.

Leave it to rise covered in a warm environment for 1-2 hours. For a slow rise (overnight), leave refrigerated.

Roll the dough out to 3-4mm (1/8″) about 20-30cm in diameter

Throw on a hot bbq plate, skillet, wok or any other hot surface you have (even straight on the coals ), add a bit of olive oil or butter to prevent burning.

Flip once you see the dough getting bubbles

Cook until it is golden brown and serve piping hot.

Enjoy as a wrap, with dip or anything else you can think of. It makes a great pizza base.